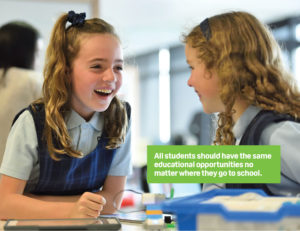 A bequest to the Public Education Foundation is a generous way for you to make a lasting contribution for the benefit of future generations of public school students and their educators.
Leaving a gift in your will to the Public Education Foundation is more than a gift. It will…
Support students who face social and economic disadvantage to achieve their full potential through life-changing scholarships.
Provide professional development and opportunities to educators and school leaders to enable them to extend their leadership and teaching skills.
Enhance the value of Australia's public schools, ensuring every Australian has access to a high quality, inclusive education.
The Foundation aims to build lasting relationships with our donors, so if you are considering making a bequest we invite you to discuss your intentions with us so we can thank you personally and make sure your wishes are understood.
To answer some of the questions you may have we have provided this resource for you to print off or download.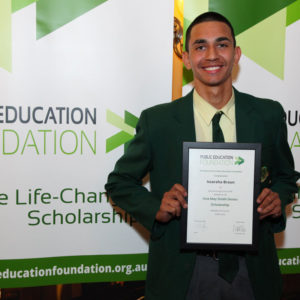 .
The Una May Scholarship is named in honour of Una May Smith of Coogee. Miss Una May Smith was an Aboriginal woman whose career in education had involvement with La Perouse Public School over a number of years. Miss Smith generously bequeathed part of her estate for the establishment of this scholarship
For one of the recipients of this bequest, Issaraha Braun, the scholarship really made a difference to his access to education.
Receiving this scholarship provided me with a marvellous opportunity. With the money from the scholarship I was able to buy things that support my study. I was able to purchase a laptop and no longer needed to rely on the school laptops which are often being used. This has freed me up to do other extracurricular activities at recess and lunch as I can now take my laptop home. I can concentrate on my studies because of the Una May Scholarship. For this, I am very grateful.